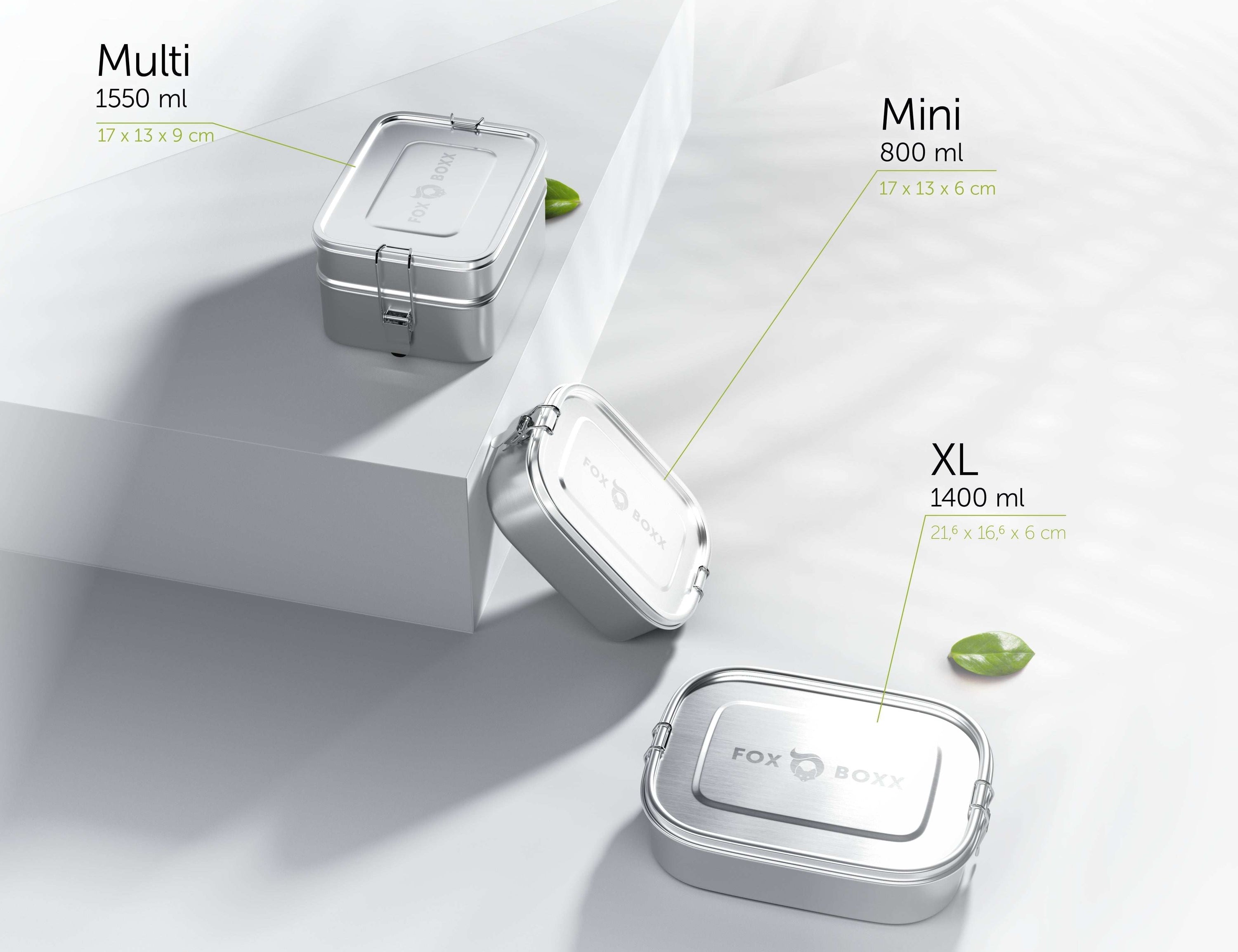 $38.00
Regular price
$41.00
off
🎃 Halloween SALE endet in {timer}
Accessories FOXBOXX
Your FOXBOXX will be with you in about 1-3 working days!
Description
🦊 Dimensions: 21.6 x 16.6 x 6 cm - 1400 ml
🦊 Weight : 622g
🦊 Accessories:
150ml mini can incl. 2 lids (BIO silicone blue = leakproof, metal)

2 x DualCham® (2-chamber seal)

 in red
= red seal for size "XL"
5 x decorative ribbons in your favorite colour
2 dividers = 3 compartments
🦊 Material: Premium stainless steel 18/8 (rustproof & food safe
matt polished = fewer fingerprints
Details Foxboxx
150ml mini can incl. 2 lids (silicone blue = tight, metal)

2 variable dividers = determine the size and number of your compartments yourself

DualCham® seal = 100% leak-proof and leak-proof (2-chamber) silicone

SmartClips® = optimized for small children's hands, extremely easy to open / still tight!

Dishwasher-safe (please remove the seal for a long service life)

Freezer safe - no harmful substances like plastic cans

Quality & Safety - Noble laboratory steel = food safety & durability.
Charity & Environment
Free from harmful substances - no microplastics. Not in food. Not in the environment.
The FOXBOXX is sustainable and CO2-neutral!
The protection of the oceans is important to us, which is why you are supporting two projects with the FOXBOXX:
1) oceancare.org: we donate to oceancare.org once a year
Shipping is with DHL 🌱 GoGreen
FOBOXXX XL 1400 ml - ECO lunch box SPECIAL
$38.00
Regular price
$41.00
Shipping | 90 days return | warranty
Try it for 90 days!
Our customers ❤️ the FOXBOXX ! Surely you too!
We offer you the best quality on the market (the Rolls-Royce among lunch boxes ;-) That's why you can test it for 90 days and send it back for FREE (FOX VIP*) if you don't like it!
3 year guarantee
The FOXBOXX is intended as a " non-disposable product ". That's why we try to maximize quality and give all buyers the security of a 3-year guarantee! More information under "Warranty conditions "FOXBOXX - 3 year guarantee" here->
Shipment
We ship with DHL 🌱GoGreen. More information about shipping costs and times under -->
How much fits in your XL Special?
Determining the right size online is not always easy... here is an example open and closed! Move the slider!
Sets at a bargain price
buy several products cheaper as a pack...
week
bento snack box lunch box for kindergarten lunch box made of stainless steel lunch box cheap daycare year lunch box with compartments lunch box with partition lunch box with many compartments snack stainless steel lunch box for children stainless steel box with lid stainless steel lunch box made in Germany large lunch box with compartments snack box for children snack box kindergarten snack box Snack box with compartments, snack box and drinking bottle, kindergarten vesper box, lunch box, adult leak-proof lunch box for children, elementary school lunch box, kindergarten lunch box with compartments, lunch box with compartments, leak-proof lunch box with compartments, adult lunch box with compartments, lunch box with many compartments, lunch box set, gift for Christmas, Santa Claus lunch box, stainless steel, premium leak-proof lunch box Lunch box children's storage BPA free oeko organic non-toxic bento box plastic-free lunch school compartments cans snack box snack box lunch box snack box kindergarten daycare box metal box bentgo kids food box breakfast box partition yoghurt cup bento box lunch bag salad box bento box lunch boxes snack box gift Christmas nikolo subdivision girls metal cans lids muesli breakfast box lunch box airtight snack eat can Container lunch boxes storage box lunchpot lunchboxes butter lunch box children's lunch boxes container without plastic storage boxes metal break box boys flat bread boxes lunch box lunch boxes separator storage box divided stainless steel box sustainable salad box school lunch box food storage sandwich young insulated toddler silicone snack enrollment snack hiking environmentally friendly tight separation drinking bottle sausage box fridge healthy eco food storage box steel stainless steel personalisable Personalized metal box environmentally friendly product snack box sausage tin lunch box aluminum box waterproof metal breakfast box sandwich box stainless steel box vesper box food storage box lunch box lunch box food storage box bento box lunch box metal lunch box lunch box lunch box breakfast box sandwich can children stainless steel can vesper box waterproof partition kids bentgo dense plastic-free tin hiking sausage