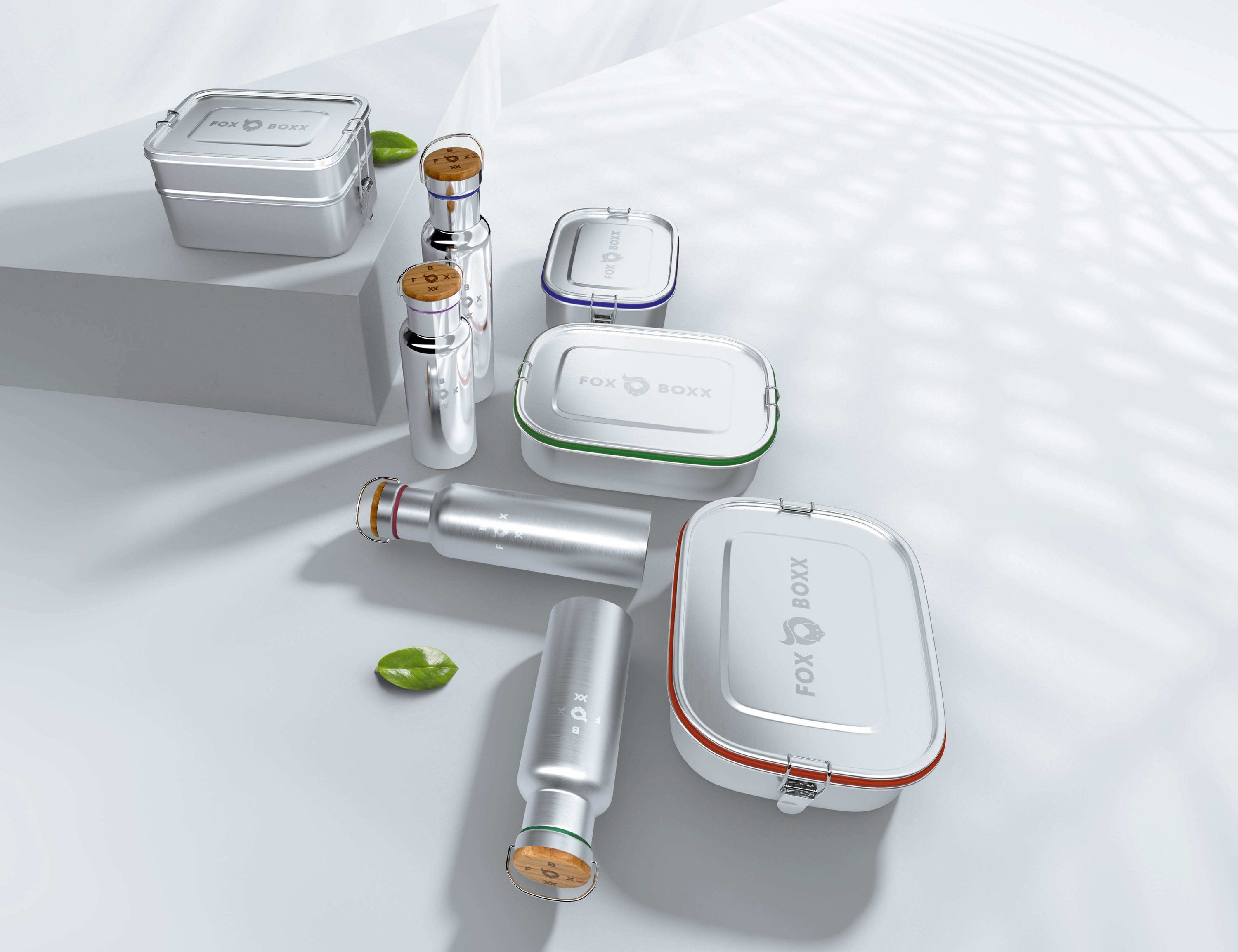 $24.00
Regular price
$29.00
off
included in the set
The bottle will be with you in 1-3 working days!*
Description
0.5 liters


Matt brushed



with TEE strainer
BIO brush with natural brush
Gaskets in 5 colors = choose your favorite color!
Premium stainless steel carabiner 18/8
FREE Cotton BAG
Premium 18/8 stainless steel
Copper coating of the outer inner bottle
the best quality stainless steel bottle on the market!*
Details Foxboxx
ø 7 cm Height = 23 cm Weight: 416 g Keeps ice cold or super hot for 24 hours!
Charity & Environment
Free from harmful substances - no microplastics. Not in food. Not in the environment.
The FOXBOXX is sustainable and CO2-neutral!
The protection of the oceans is important to us, which is why you are supporting two projects with the FOXBOXX:
1) oceancare.org: we donate to oceancare.org once a year
Shipping is with DHL 🌱 GoGreen
FOXBOXX drinking bottle insulated 500 ml matt
$24.00
Regular price
$29.00
Shipping | 90 days return | warranty
Try it for 90 days!
Our customers ❤️ the FOXBOXX ! Surely you too!
We offer you the best quality on the market (the Rolls-Royce among lunch boxes ;-) That's why you can test the lunch box and the bottles for 90 days and send it back FREE (FOX VIP*) if you don't like it!
3 year guarantee
The FOXBOXX is intended as a " non-disposable product ". That's why we try to maximize quality and give all buyers the security of a 3-year guarantee! More information under "Warranty conditions "FOXBOXX - 3 year guarantee" here->
Shipment
We ship with DHL 🌱GoGreen. More information about shipping costs and times under -->
week
stainless steel bottle stainless steel drinking bottle stainless steel kindergarten bottle kindergarten drinking bottle daycare drinking bottle sports cap drinking bottle drinking bottle drinking bottle drinking bottle stainless steel drinking bottle kindergarten drinking bottle kindergarten stainless steel drinking bottle daycare thermos drinking bottle children's water bottle stainless steel drinking bottle leak-proof carbonic acid suitable insulating bottle baby on the go thermosteak thermos flask carbonated drinks thermos flask water bottle bottle lunch box Set of tea large metal school water bottle water thermo tea bottle aluminum bottles vacuum jug beverage bottle stainless steel bottle bicycle bottle drinking canister adults stainless steel hiking bicycle thermos bottles insulated soda thermos outdoor kids drinking bottels copper gym small metal bottle easily dishwasher safe fitness large plastic-free sieve children's drinking bottles office large iso-bottle tea stainless steel drinking bottle BPA free metal sports children's bottle Sports bottle sustainable thermal bottles hot hiking child vacuum ice tea bottles stainless steel bottles hot cold field bottle children's drinking bottle cool insulated drinking bottle robust test winner aluminum bottle hiking drinking bottle eco bag density made of vacuum-insulated high-quality bamboo bestseller wooden lid thermos drinking bottle warm cold sustainable thermal bottle bamboo shatterproof screw cap thermal flask eco steel toddler thermal drinking bottle ISO drinking glass bottle thermal flask pattern aluminum drinking bottle plastic-free termus bottle bamboo bottle grav ur Trimk bottle drinking bottle double -walled Color Camping Water Canister Steel bottle Hot Edestahl ThermoBottle Insulated Wood Innovative Premium Reusable Light Hot Saircase Drinking Bottle Sprudel Water Double Wall Drink Vacuum Stainless Steel Drinking Bottle Metal bottle Termoskanne Bio Zero Waste Kindergarten Grand Sports Vacuum bottle Metal drink bottle Insulation bottle Cooling function Environmentally friendly cooling bottle Bento children's thermal bottle Winter Silver Stainless Steel Hermos bottle Spot bottle Insulating bottle, drinking bottle, sports drinking bottle, reusable, insulating drinking water bottle, work, hygienic, hot, waterproof tea strainer, herbal sieve, organic brush, bottle brush, cleaning brush, lunch box, snack box, stainless steel drinking bottle, drinking bottle, water bottle, insulating bottle, thermos bottle, carbonic acid, waterproof, environmentally friendly, metal tea strainer, organic brush, bottle brush cleaning brush, thermos flask, leak-proof thermos bottle